Creating a marketing plan on an A3, or a single sheet of paper is not much of a novelty. However, if you think for a moment about A3 reports and the traditional Lean Problems Solving A3, you will see a similarity on how I have organized the A3 Marketing Plan. In A3 Problem Solving, I create four distinct areas in the A3. I learned this trick from Jamie Flinchbaugh that he introduced in his ebook, A3 Problem Solving: Applying Lean Thinking (I recommend). These areas in problem solving are  What is the Problem, What do we need to Learn, What does good look like? and What actions will get us there and how will we know?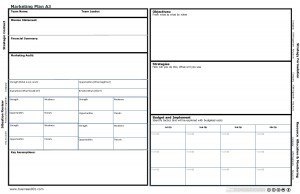 Download PDF of the A3 Marketing Plan
I am not always using A3s just for problem-solving alone. I like to use A3s in a variety of ways and especially for iterative planning. In the A3 Marketing Plan, I follow a similar format, mentioned above, of dividing the A3 into four distinct areas. The A3 Marketing Plan areas are Strategic Context, Situation Review, Strategy Formulation, and Resource Allocation and Monitoring. I will expand on these areas in upcoming blogs but at a high-level outline, I will introduce the four blocks:
Left Side of A3:
Strategic Context: A mission statement may seem sort of blasé these days, and in modern day thought we tend to think more along the line of Simon Sinek's "Why" connotation. However, I think a statement that describes our company's target market/customer, product/service offering and the general direction we are headed is a good thing. If we can include that "Why" it can definitely help guide us through the rest of the planning. I like having a financial summary at the beginning to assist in establishing expectations. I think that is neglected in many early planning attempts. Budgetary control and responsibilities can actually make planning much easier.
Situation Review: This is more or less creating a current state. The audit should include what and how you are reaching your current marketing objectives. I use a SOAR analysis in reviewing the company's current state and develop a SWOT analysis on each Product/Market Segment and also a SWOT on Key Accounts. During this process, we make assumptions that help us complete the process. These assumptions may be proven wrong or challenged later, but this additional context is invaluable when determined why we choose certain courses of action. Especially at a later date.
Right Side of A3: Each section on the side is broken down into Company, Product/Market Segments, and Key Accounts. The Objectives, Strategies, and Tactics should be all linked together providing continuity during the planning process.
Strategy Formulation: In this section we determine our objectives that we must achieve to be successful. Since, we are looking for some type of way to evaluate whether we achieve the objectives we simply state where we are at today and where we want to be at tomorrow. The strategies describe what we will do to reach the objectives. In marketing, these might be the channels we will use.
Resource Allocation and Monitoring: This is the work we will do, the tactics and who will do the work to implement the strategies above. I like to put budgetary numbers in place.
Of course, you can drill down much further into any of the areas. Each SWOT report may contain several pages. The A3 Marketing Plan can be used at a hi-level or for actual implementation. The creation of this should be completed utilizing a catch-ball effect where the creation of the document involves the actual people in the organization doing the work.
Download PDF of the A3 Marketing Plan
Learn Lean Sales and Marketing thru A3s
Develop a Lean A3 Startup Marketing Plan
Above, I introduce the Developing a Lean A3 Marketing Plan. I encourage you to review it before proceeding below.
Every startup has different nuances and may be reviewing this post at different times in their development, I have found outside of having a bad idea, the area that distinguished startup marketing more so than any other area is developing product/market fit or your target customers. Most startups are affected by what might be called the China Syndrome. There are x amount of people, I will get x amount of market share. So if there are a billion people in China, I certainly should be able to get a handful for my product/service. All I need is a little marketing.
Since, I don't believe the above, I think finding your beachhead market is the most important thing you can do. Even more so than have a minimum viable product. If we have a MVP and an established Target Market/Customer, we can develop the appropriate personas that we believe our correct. I like to use a persona or even a scenario type structure in the early stages of a start-up or a launch. It provides better clarity and focus in moving a plan forward. When you do by markets and even Key accounts to some extent, you tend to generalize more or make broader assumptions. I would rather adjust because of too much focus versus adjust because too little focus. It is also cheaper this way, if that has any relevance.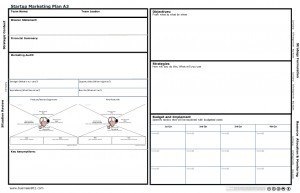 Download PDF of the A3 Startup Marketing Plan
Learn Lean Sales and Marketing thru A3s
A lot of us will procrastinate writing a marketing plan and for good reason. Planning is painful. If done correctly, it forces us to face current reality. Adding insult to injury, it forces us to face future reality. It is simply a disheartening process for most. There is a shorter way to a marketing plan, and frankly, I have used it often. In fact, just about weekly. It is the Reflection A3 or CAP-Do.
Quickest way to a Marketing Plan requires Reflection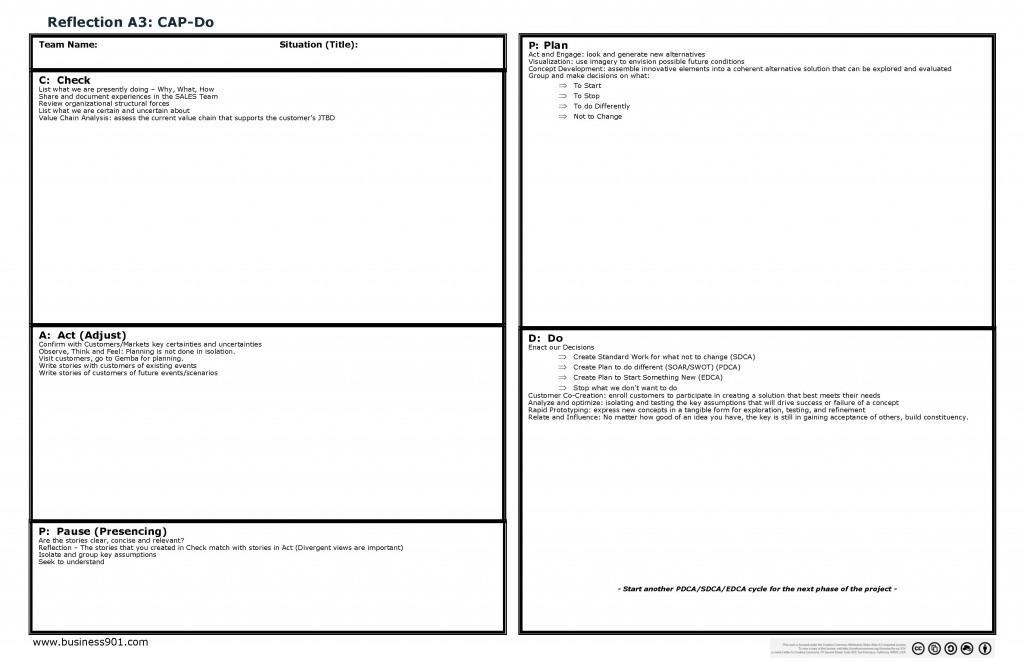 Download Reflection A3: CAP-Do PDF
I am not going to elaborate on how to do it. However, I do want to re-emphasize what the strength of utilizing CAP-Do versus the other Lean Cycles of SDCA-PDCA-EDCA. CAP-Do reinforces the action of determining current state and confirming with customers. Also, there is an unwritten step in CAP-Do of pausing and presencing at this time for reflection. It is then and only then we start looking and generating alternatives.